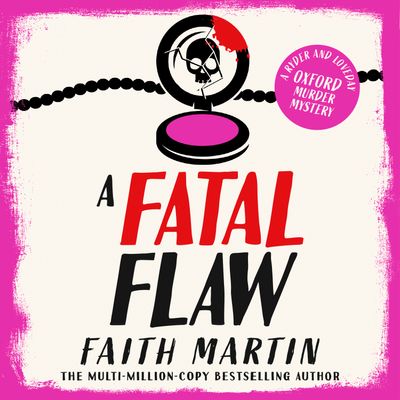 A Fatal Flaw
By Faith Martin, Read by Stephanie Racine
The brand new Ryder & Loveday novel from global bestseller Faith Martin!
1960, Oxford
As the city of Oxford prepares itself for the inaugural Miss Oxford Honey Beauty Pageant at The Old Swan Theatre, excitement is in the air.
Then, tragedy strikes the competition when one of the leading contestants is found dead.
Initially, the authorities assume her death was suicide. But after a malicious series of pranks and blackmail attempts are reported, WPC Loveday and Coroner Clement Ryder are called upon to solve the case.
In an atmosphere of fierce competition, the list of suspects is endless. Could what have started as harmless fun become a deadly race to win the prize?
With time running out, the duo need to spot the killer before tragedy strikes again…
A gripping murder mystery, perfect for fans of Agatha Christie and M.C. Beaton.
The Ryder and Loveday Series
Book 1: A FATAL OBSESSION
Book 2: A FATAL MISTAKE
Book 3: A FATAL FLAW
Book 4: A FATAL SECRET
Book 5: A FATAL TRUTH
Readers love the Ryder & Loveday series:
'Insanely brilliant'
'I absolutely loved this book'
'Faith Martin, you've triumphed again. Brilliant!'
'If you haven't yet read Miss Martin you have a treat in store'